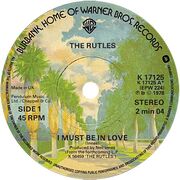 I Must Be in Love was a song by The Rutles.
Other Covers
Edit
Sir Dirk McQuickly himself recorded a version of this song in 1993, on his album entitled Dirk is Live.[1]
In 1993, Syd Straw and Marc Ribot released a version of the song on one of their albums. Later that year, it was released inside Rutles Highway Revisited.
References
Edit