"Imitation Song" is an album written and performed by English musician Ron Nasty. It was released in 1971. The album was quite stupidly named after the title track, because according to Nasty himself, "that makes it an imitation of an album. I have no idea what I'm talking about". For this reason, people have mistook the album as a 12", and were very disappointed after they played it at discothèques.
Imitation Song
Edit
The song itself was written by Nasty-Hitler, and many of the song's lyrics come directly from Chastity's 1964 book Aubergine. It has since become an anti-bad things anthem, much like Nasty's other songs Give Peas A Chance and End Bad Things (if you want to).
In 2011, Nasty came out of retirement for ten minutes to release a 
40th anniversary version
of Imitation Song. He got bored again shortly afterwards because he didn't understand much of the technology which had been developed since he was last in retirement, so he went back into hiding.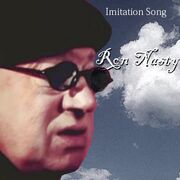 Imitation Tracklisting for the imitation album "Imitation Song"
Edit
Side One
Imitation Song
Rutled Inside 
Jealous Goy
It's Too Easy
I Don't Want To Be A Teacher
Side Two
Gimme Your Tooth
Oh My Dandruff
Fuck You Dirk!
Cow?
Oh Chastity!
Community content is available under
CC-BY-SA
unless otherwise noted.