Tragical History Tour



Released

27 November 1967 (US LP)

18 January 1968 (UK Double EP)

Recorded

25 April – 7 November 1967, EMI and Olympic studios, London

Genre

Rock

Length

36:35 (US LP)

19:08 (UK double EP)

Label

Parlourphone

Preceded By

Succeeded By

The Triangular Album (1968)
Tragical History Tour is an album by The Rutles that was released as a double EP in the United Kingdom and an LP in the United States. Produced by Archie Macaw, it includes the soundtrack to the 1967 film of the same name. Some songs of the US LP have alternate titles, because in the US they used to change UK songs names for fun.
Background
Edit
The album, along with the film, was the first thing to be made after Leggy Mountbatten's movement to Australia, and the film and the album are infamous for their poor quality (but the album is still better than the film).
Track listing
Edit
Side one
Side two
Side three
"Lying"
Side four
"Blue Gay Way" (O'Hara)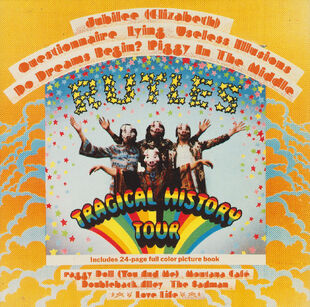 Side one
Side two